February 22nd, 2017 by tisner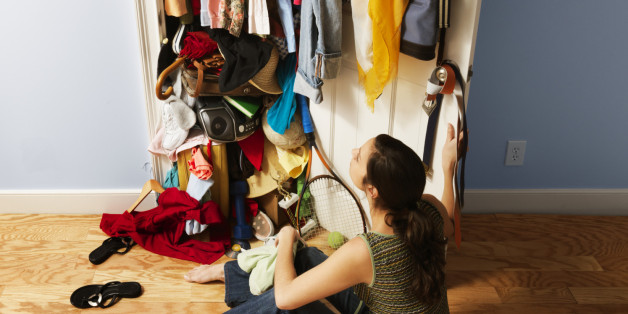 If you are like most people you likely have a ton of stuff in your closet that you don't really need.  There is something about having a full closet that makes one feel like they have all they need however the art of purging can make you feel so much better about life!  Below are a few tips on purging items from your closet to get you started in the right direction.
When you begin to purge items from your closet  the best place to start is any clothing you haven't worn in the last year.   A good way to figure this out if you struggle knowing what you have and haven't worn is to turn all of your hangers backwards and as you wear a piece of clothing turn that hanger the opposite direction.  At the end of the year get rid of any clothes that still have the hanger turned backwards.
Most likely you have a ton of shoes that you haven't worn lately in your closet. A good idea for purging when it comes to shoes is to just look at them.  Do they have any holes or a lot of wear and tear?  If your answer to either question is yes then it is time to purge those particular shoes.
Many of us have clothes in our closet that we simply can no longer fit into.  If this sounds familiar, do yourself and your closet space a favor and toss those clothes out.  Why waste much needed space in your closet with clothing you can no longer wear.   Make this fun by going out and purchasing a few new clothing items that fit you.  It's always fun to purchase new clothes!
If you have any clothes in your closet that you absolutely love but they have stains on them that just won't come out….throw them away and purchase the same shirt or pants new if you just have to have them.
T-Shirts and promotional clothing can also take up space in your closet that is unnecessarily wasted space. Find a spot or a drawer in which you can place these types of items if you feel the need to keep them for nostalgic reasons.
These are just a few ways in which you can get started purging items  from your closet to make the space a more useful and functional area.   Take what ideas work best for you and leave the rest.
Access Teri's one-stop Orlando FL home search website.
Teri Isner is the team leader of Orlando Avenue Top Team and has been a Realtor for over 24 years. Teri has distinguished herself as a leader in the Orlando FL real estate market. Teri assists buyers looking for Orlando FL real estate for sale and aggressively markets Orlando FL homes for sale.
You deserve professional real estate service! You obtain the best results with Teri Isner plus you benefit from her marketing skills, experience and ability to network with other REALTORS®. Your job gets done pleasantly and efficiently.  You are able to make important decisions easily with fast, accurate information from Teri. The Orlando Avenue Top Team handles the details and follow-up that are important to the success of your transaction.
Get Orlando Daily News delivered to your inbox! Subscribe here!
Google+ Comments