November 23rd, 2010 by tisner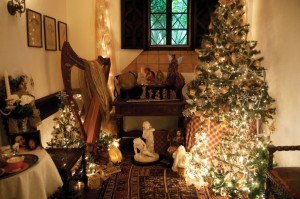 Start off your Orlando holiday with a tour of the 1930s Pinewood Estate at Bok Tower Gardens.  This year is special because the designers and volunteers have decorated with their fondest holiday memories and have even used their own family ornaments. As you enter the beautiful 1930s Mediterranean-style home you will notice the handmade Victorian ornaments for the "Victorian Reflections" room.  In the Pantry you will be remind of "Sweet Memories" from grandma's kitchen.  Move on to the Dinning room for "Santa's Dinner" where the table has been set for their meal.  In the Living room you will enjoy music by the Trans-Siberian Orchestra as you wonder at the forest of trees that surround this room.
Head upstairs where you will find more trees these decorated to showcase decades of different trends as the "Parade of Trees".  In the bedrooms you will also find unique designs like the "Country Christmas" and "A Little Girl's Dreams". 
As you wander around the house keep an eye out for the more than 200 red and white poinsettias.  Don't miss out on this Orlando Estate that has been beautifully decorated for the holidays.
Free mobile app to search all homes right from your phone!                       
Google+ Comments