November 29th, 2007 by tisner
Celebration Florida Red Hat Society Holiday Gathering
Celebration Florida Red Hat Society Holiday Gathering

If you are a member of the Celebration Florida Red Hat Society there will be a red hat society holiday party to add to the calendar.
Tues December 4th at 11:30 am at the Celebration home of Guy and Ruth Ann Petrigliano.

As the invitation states Romeo's are welcome which stands for "Real Old Men Eating Out". This one I will need to remember a creative and new meaning to the word Romeo with apologies to Shakespeare!
You will need to rsvp or contact Barbara Schramm at BDSSchramm@aol.com or call 407-566-0409.
The red hat society is nationwide and if you want to learn more about them or just shop for some of those red hat products the fun starts here.
Joining the red hat society couldn't be easier. Now Celebration Florida Red Hat members can not only enjoy the Red Hat party in Celebration you can come join members across the country who will be coming to Las Vegas Jan. 12th the major promotion from Jan 25th to the 27th, or Tampa Bay Feb. 2- May 11th to enjoy the new musical Hats!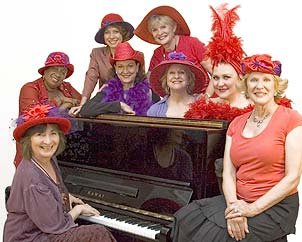 The story as they say is joyous, provocative and hilarious. There is a video preview, pictures and other sites and sounds to check out ..get ready to smile. You can book your travel or tickets at Teri's Travel Store!
All the latest details for the Celebration Hat Society can be found on the official website of the Red Hat Society. This includes purple perks, sneak previews of specials and publications.
If you are interested in joining the Celebration Florida society contact Barbara!
Happy Holidays to all the red hat society members from Celebration Florida.
Google+ Comments