March 9th, 2020 by tisner
Florida sees the highest levels of interstate migration across the US. And, of the Sunshine State's most populous counties, Orange County received the highest number of such newcomers as a proportion of the population there. The county seat, Orlando, has flourishing industries and strong job market, and surely benefits from this influx of people and skills.
A recent study by STORAGECafe, a website that provides storage unit listings across the country, investigated the moving patterns of Americans who give up their home in one state for a new life in another. The data used was taken from the US Census. Additional data about the cost of interstate moving was obtained from United Van Lines, the largest full-service moving company in the US.
Florida's Interstate Moving Trends
It's hardly news that Florida, with its great weather and entertainment options, is a popular place to move to. The study found that in 2018 around 587,000 people moved there from elsewhere in the contiguous US—that's a rate of 11 people every 10 minutes. The state that provided the most newcomers was New York, with 63,033, which is 11% of all the total incoming migrants. Next on the list were other regions to the north: Georgia (35,350), Virginia (31,798), Pennsylvania (31,712) and New Jersey (30,105). The study calculated that a New Yorker would need to pay between $3,900 and $4,300 to move the contents of an average 2-bedroom home to Florida.
Outbound migration, the number of people who left the Sunshine State for another one, was almost 471,000 during the same timeframe, significantly less than inbound migration. Floridians had little desire to set up home in New York State, with only 24,084 making that journey—about a third of those moving in the opposite direction. The states receiving the highest numbers of Floridians were Georgia (51,020), North Carolina (37,585), Texas (37,262) and Tennessee (26,724). The cost of moving to the first two of these states was calculated to be $3,400-$3,800 in both cases.
Orlando and Orange County Trends
Although in 2012 Orange County was only the fifth-most populous in Florida, with 1,169,107 people, in terms of inbound interstate migration it ranked third between 2013-2017 with 36,645 newcomers, behind Hillsborough (38,040) and Palm Beach (36,732) counties. When inbound interstate migration is calculated as a percentage of population, it can be seen that Orange County also scores highly relative to its size during this timeframe, growing by 3.13%. These figures can be seen in the table below.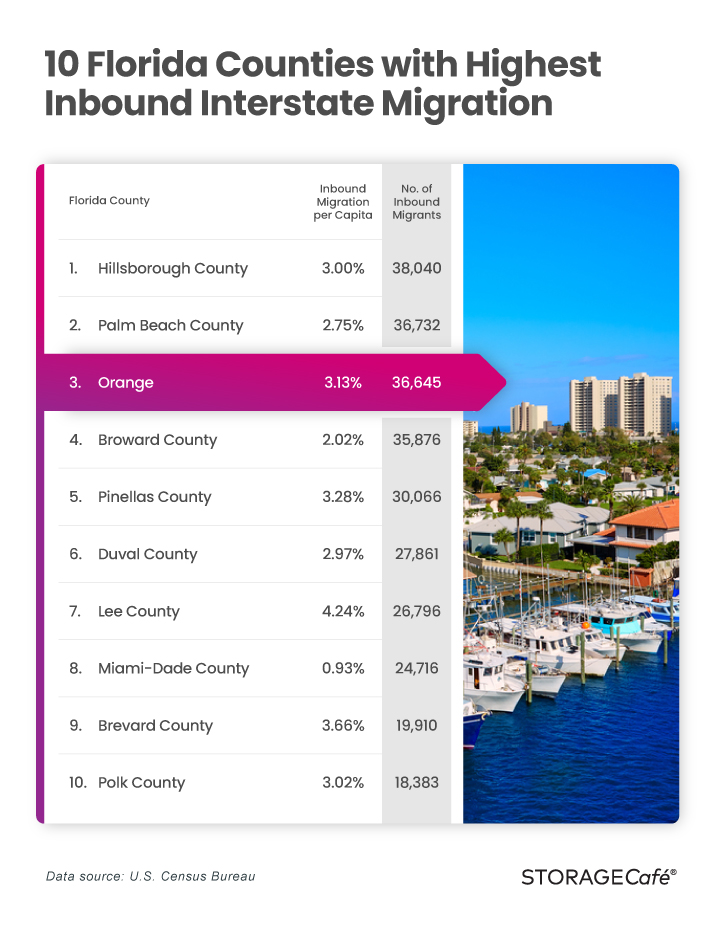 Here's a reminder of the many outstanding reasons why people might come and live in The City Beautiful! The Florida Department of Economic Opportunity's non-seasonally-adjusted figures for December 2019 reveal that the unemployment rates for Orange County and the Orlando Metro area were low at 2.4% and 2.5% respectively, not higher than the Florida average of 2.5% and well below the national average of 3.4%. The fact that Orlando is classified as one of the state's most hurricane-safe cities may be another factor that encourages people to move here.
Impact on Local Real Estate Markets
The positive impact of state-to-state migration on Orlando and can be seen in the buoyancy of the local real estate markets there. Yardi Matrix data reveals that the city is performing well compared both to Florida as a whole and to other metropolitan areas in the state.
In 2018 and 2019, 54 multifamily properties of 50 or more units were constructed in Orlando, with a total of 16,362 dwellings. No Florida city matched this activity: Miami built 52 properties with 14,217 units, while in the Tampa–St Petersburg–Clearwater metro area 35 properties were constructed with 8,507 units. At the beginning of 2020, Orlando residential rents averaged about $1,370, compared to $1,707 in Miami and $1,394 statewide in Florida.
In the self-storage sector, 36 properties were built in 2018 and 2019, with a total of 3,414,401 sq. ft. This compares very favorably with the rest of Florida, where only Tampa–St Petersburg–Clearwater saw great activity—45 properties with 3,925,182 sq. ft. At the start of this year, the average rent for a non-climate controlled 10×10 unit in Orlando was $100, whereas it was somewhat higher both in Florida as a whole and nationwide, $106 and $114 respectively.
The STORAGECafe study concluded that quality of living, business climate, taxes and the weather are major factors in deciding whether people choose to migrate to another state. (The state receiving the second-highest number of people moving interstate was Texas, which also has low taxes and plenty of sunshine, and California took third place.) While migrating across the country for jobs and better living conditions has slowly decreased over the last few decades, Orlando demonstrates that a vibrant city with plenty of employment and entertainment opportunities is still going to be a much-favored destination. There is clearly confidence in Orlando's self-storage and property rental sectors, and yet prices are not as high there as in some nearby places—it can be concluded that The City Beautiful is a great place to move to right now.
Access Teri's one-stop Orlando FL home search website.
Teri Isner is the team leader of Orlando Avenue Top Team and has been a Realtor for over 24 years. Teri has distinguished herself as a leader in the Orlando FL real estate market. Teri assists buyers looking for Orlando FL real estate for sale and aggressively markets Orlando FL homes for sale.
You deserve professional real estate service! You obtain the best results with Teri Isner plus you benefit from her marketing skills, experience and ability to network with other REALTORS®. Your job gets done pleasantly and efficiently.  You are able to make important decisions easily with fast, accurate information from Teri. The Orlando Avenue Top Team handles the details and follow-up that are important to the success of your transaction.
Get Orlando Daily News delivered to your inbox! Subscribe here!
By: Aura Mogosanu, STORAGECafé, storagecafe.com
Google+ Comments