August 27th, 2020 by tisner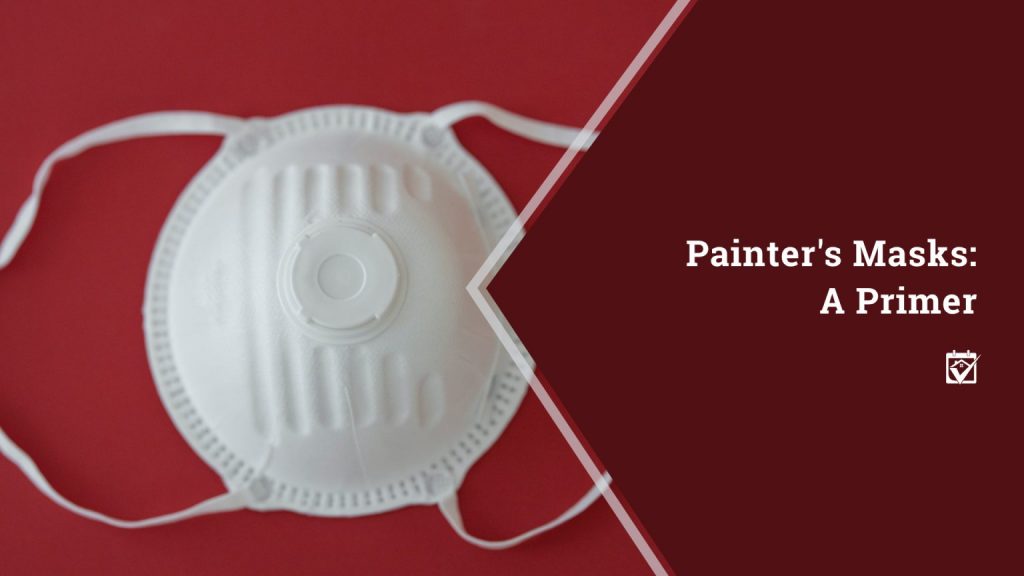 One of the best things about owning your own home is how much you can do to make it your own. Although big jobs like laying tile and building decks might be more than you're ready for, a simple and easy way to make a big change to the atmosphere of a place is to give it a paint job.
Of course, before you even pick up that big brush, it's important to have all the safety equipment you'll need on hand. Many paints contain a variety of particles that can become airborne and get inhaled, which is not very good for your lungs. That's why painter's masks are absolutely not optional.
Surgical Masks Versus Painter's Masks
By now, most people are pretty familiar with paper face masks. While paper masks may all look the same, there are actually some pretty major differences between surgical masks and painter's masks.
Surgical masks, which are generally sold for medical purposes, offer little to no protection from inhaling airborne particles. They're only good at preventing you from exhaling germs onto someone else. This is why you don't see surgical masks for sale in the same department as painting and sanding masks; they simply don't do the same job.
Painter's masks, which can also be made from a paper-like material, are specifically designed to prevent particles from penetrating their surface and getting into your lungs. Also commonly known as dust masks, these masks are actually filtering devices and offer various degrees of filtration, much like the air filters you use in your furnace.
Mask Ratings: What Do They Mean?
The National Institute of Occupational Safety and Health (NIOSH) has very specific ratings to help painters and other professionals determine exactly what type of mask to use in a given situation. It's not uncommon for a professional painter to have a variety of filtering masks on hand for different working conditions. For most homeowners, there are two main factors to consider:
Oil Resistance. The "N" in an "N95" means the mask isn't oil proof at all. You might not think that's a problem with painting, but if you're working with any kind of coating that's oil-based, using a mask with no oil proofing is the same as not using a mask at all. The letter rating is vital to your safety. N, as already stated, means no oil-proofing, R provides up to eight hours of oil-resistance, and P can remain oil-proof for more than eight hours at a stretch.
Filtration. The number part of the mask's rating is all about the percentage of one micrometer particles that are being removed from the air coming into your face, based on clinical trials. A 95 rating filters 95 percent of these tiny particles, a 97 filters 97 percent of particles, and 100 is akin to a HEPA filter, removing 99.9 percent of those airborne particles.
For most homeowner projects, a 95 percent filtration mask is adequate protection, but if you're working in a home that is known to have lead, asbestos or other fine and dangerous particles, you may need a more powerful filtering device.
Enter the Cartridge Respirator
Cartridge respirators are tight fitting masks with removable filtration cartridges that offer more protection than a basic dust mask. Although the rating system is essentially the same, cartridge respirators can also filter out harmful vapors and particles smaller than one micrometer. When choosing a cartridge respirator, you can grab one that will allow you to stack filter cartridges, and thus filter a range of environmental hazards all at once.
Not Sure About Respirators?
If you're not sure what respirator is right for your project, or you're concerned that you may simply not be able to protect yourself from whatever hazards your paint and walls may be hiding, hiring a painter is a perfectly good option. Not only do they have the experience to get your job done faster and with less interruptions to your life, they're in the business of protecting themselves from the various vapors and particles that are involved in sanding, priming and repainting walls, floors and other surfaces.
You can find a great painter in your HomeKeepr community who can do the job safely and correctly! Sign up for your free account today to get started.
Access Teri's one-stop Orlando FL home search website.
Teri Isner is the team leader of Orlando Avenue Top Team and has been a Realtor for over 24 years. Teri has distinguished herself as a leader in the Orlando FL real estate market. Teri assists buyers looking for Orlando FL real estate for sale and aggressively markets Orlando FL homes for sale.
You deserve professional real estate service! You obtain the best results with Teri Isner plus you benefit from her marketing skills, experience and ability to network with other REALTORS®. Your job gets done pleasantly and efficiently.  You are able to make important decisions easily with fast, accurate information from Teri. The Orlando Avenue Top Team handles the details and follow-up that are important to the success of your transaction.
Get Orlando Daily News delivered to your inbox! Subscribe here!
By: Homekeepr, Rob Morelli