November 25th, 2014 by tisner
It's time to gather around with friends and family to give thanks for all that has happened to us throughout the year and time to share in a feast fit for kings. If you want more out of your Thanksgiving this year, you might want to "give back"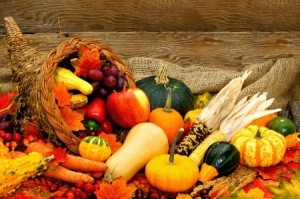 in one way or another. There are many ways that you can "give back" this Thanksgiving and I have listed a few of those for you below.
Shop for your Thanksgiving feast at your local farmers market. By shopping at your local farmers market you are helping to support local businesses and in turn that helps your local economy.
Use organic foods for your Thanksgiving meal. By choosing to use organic you are not only helping your family to be as healthy as they can be, you are also helping organic farmers as well.
Help out at a local food bank or soup kitchen a few hours on Thanksgiving Day. If you have children this is a great way to show your children how to help others who are less fortunate than they are.
There are many other ways you can give back this holiday season and a few more ideas can be found here.
Don't forget that not everyone has as much as you do and that the holiday season is one of the best times of the year to help make a difference in someone else's life.  You may be tempted to forget about others and only think of yourself and your family during these busy holiday times but set aside a few hours each week for you and your family to help out those less fortunate and I promise that your holidays will be the best ever.  A few ways you can do this are as follows.
Offer to buy your elderly neighbors Thanksgiving meal for him or her. You can also offer to cook their meal to help make the big day less stressful for them.
If you know that your elderly neighbor no longer has living family to spend the holidays with, invite them over to share in your families Thanksgiving feast.
Trust me when I say that your Thanksgiving holiday will be the best you ever had if you are only willing to open up your heart and home to others who don't have as much to be thankful for this year. Perhaps you know of someone who has lost a loved one this past year that you can minister to in the ways mentioned above. If you don't have a clue where to start in your venture of giving back this season, you can start at your local church or other organizations by asking where you can best be used.
Happy Thanksgiving!
Google+ Comments