November 13th, 2017 by tisner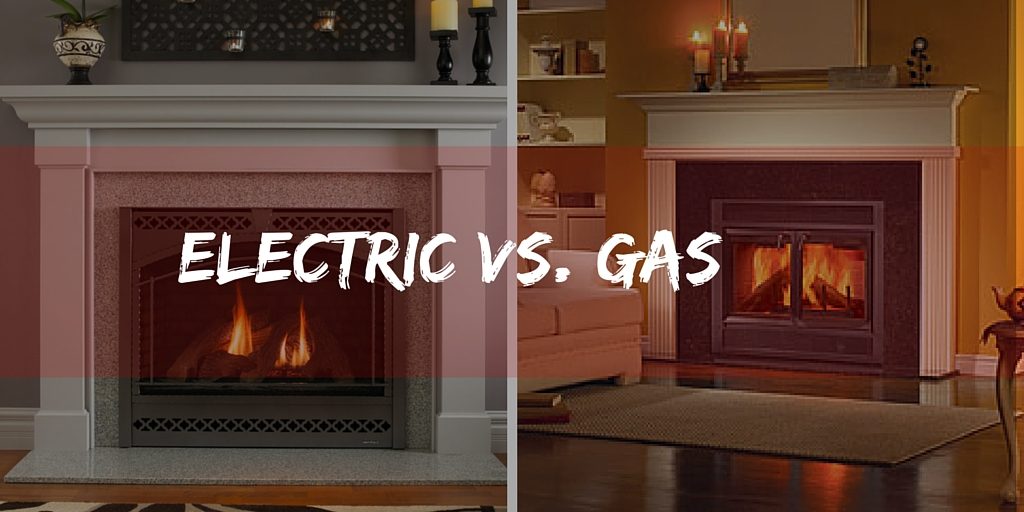 Wintertime will soon be upon us, and if we want to save money and energy consumption, we turn the thermostat down a few degrees.  What better way to take the chill off while in the family room than a fireplace? Gone are the days of strictly using wood to warm us up–check out this comparison of gas and electric fireplaces, and see what's right for you and your family. 
Installation should be your first thought if you don't have a wood fireplace to convert to gas or electric. When choosing gas, you need a gas line installed, as well as a propane tank.  With electric, inserts and free-standing units are available, and you simply need the equipment and a nearby power outlet.

 
Gas 
Gas fireplaces come vented, or unvented.  Vented gas logs must be used in a wood burning fireplace with a chimney and damper. Ventless logs can be used in an existing fireplace, or as a stand-alone unit.

 

Vented logs look very realistic, but a large portion of the heat goes up the chimney.  You'll get less "real" with a ventless set of logs, but they are much warmer, and use less gas than vented.

 

There's a great deal of ongoing debate about the safety of ventless gas fireplace units, and you have to be extremely cautious of how long you burn them, because of oxygen depletion.  Discuss these and other safety matters with the salesperson or gas company representative.  

 

Gas fireplaces get very hot, because they use an actual flame to produce heat.  Children, the elderly, and pets shouldn't get close to the fireplace while in use.

 

Prices for gas fireplaces run the gamut, as they can be constructed to look like a real fireplace, with a mantel and hearth.  Lots of options are available, depending on where you make your purchase. Cost of use varies, depending on whether propane or natural gas is being used. Gel-burning fireplaces are on the market as well, and could be a good option for your home.

 

Safety should be first and foremost with gas fireplaces.  Talk with your gas provider, read the instruction manuals carefully, and follow all guidelines.  If you have a problem, call customer service or a repair company immediately.

 
Electric 
Electric fireplace units don't need to be vented, because they don't put off any gasses.

 

The only heat you have to be concerned with is the heat that keeps your toes warm–electric fireplaces are constructed from materials that don't transmit heat, so you don't have to worry about anyone getting burned if they touch it.

 

Installation is easy.  Choose your unit, decide where it's going to be a focal point in the room, set it up and plug it in.

 

Thermostats are available on electric units, making it much easier to control the room temperature.  

 

No fuel means no gases being emitted, and it can be a safer choice if you want to keep it burning for longer than a few hours.

 

Costs for electric units are about the same, but the extra cost associated with operation will be on your electric bill.  

 
Adding a new heat source is not something to be taken lightly, and when it comes to gas and electric fireplaces, there are pros and cons with each.  Talk with knowledgeable people, search the internet, and talk to your family before you make the final purchase.  Whatever you choose, it will be nice to have a fireplace to cozy up to on a chilly night. 
Access Teri's one-stop Orlando FL home search website.
Teri Isner is the team leader of Orlando Avenue Top Team and has been a Realtor for over 24 years. Teri has distinguished herself as a leader in the Orlando FL real estate market. Teri assists buyers looking for Orlando FL real estate for sale and aggressively markets Orlando FL homes for sale.
You deserve professional real estate service! You obtain the best results with Teri Isner plus you benefit from her marketing skills, experience and ability to network with other REALTORS®. Your job gets done pleasantly and efficiently.  You are able to make important decisions easily with fast, accurate information from Teri. The Orlando Avenue Top Team handles the details and follow-up that are important to the success of your transaction.
Get Orlando Daily News delivered to your inbox! Subscribe here!
Photo credit: www.bowdensfireside.com
Google+ Comments