December 11th, 2017 by tisner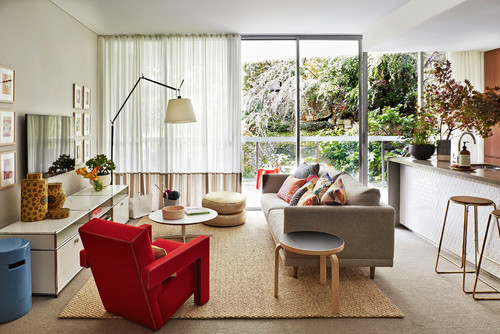 If the furniture in your living space looks like it's just stuffed in the room, there are ways to make your space seem larger.  Check out these tips to create more space in your home: 
Use mirrors to fool the eye, because they reflect light and images. Hang one larger mirror on the main wall, several small ones, (gallery style), or even an oversized mirror leaned against the wall.  

 

Painting walls a light color automatically opens up the space to the eye, because it reflects light.  Going all one color is a great way to make the room appear larger, too.

 

Get rid of clutter.  The more you have sitting around–mail, books, work, kids' school things–the fuller your space looks.  Baskets, files or paper organizing gadgets, decorative storage containers, or furniture pieces that double as storage are the best way to hide necessary things.  Get rid of, (in other words, throw away or recycle), junk mail and unnecessary paper as soon as you look at it.

 

Draw an imaginary diagonal line across your room and place your furniture at an angle.  You even get a bonus storage area behind anything that covers a corner!

 

Pieces that are the same color as the walls blend in, making the room appear larger.

 

Either skip window coverings, or use sheer drapery or curtains and blinds that are the same color as your walls.  If you have to use drapes, hang them either at ceiling height, or just inside the window so the framework is visible.

 

If you want bookshelves, consider a wall-to-wall, floor-to-ceiling unit.  Draw the eyes horizontally and vertically.

 

Speaking of bookshelves, the less you have on these open spaces, the roomier it looks.  Cramming every collection, book, or "trinket" just fills up the space in a similar way that clutter does. If you must display sentimental pieces, display a few at the time.  Switching them out on occasion will also give new appreciation for them.

 

Choose sofas and chairs with exposed legs to allow to light to pass through underneath them.  The more light in your room, the better.

 

On that note, light is your friend.  If you can't get more natural light into the space, use a few lamps instead of an overhead light, as it draws the eye to look around the room.

 

Keep patterns small.  Use a punch or two of larger patterns on pillows or throws, but not too many–remember–less is more.

 

If you need an area rug, don't settle for a small rug under the coffee table.  Purchase a rug that extends out from the furniture, as it will draw the eye out.

 

Create a focal point with framed pieces on one wall, especially behind a sofa, and extend the arrangement to the ceiling, and it will make the space appear taller.  It will also add pop and take away from the room's size. 

 

Drop-leaf tables or dining tables with the extra leaf removed work best in small areas, and if you need more tabletop space for guests or for workspace, simply add the leaf.

 
Small spaces can still mean big living–we just have to make a few adjustments to maximize the space and create a few illusions for our minds to think big.  Better Homes and Gardens has multiple ideas for small spaces, from apartments to living areas, as well as those awkward spaces. 
Access Teri's one-stop Orlando FL home search website.
Teri Isner is the team leader of Orlando Avenue Top Team and has been a Realtor for over 24 years. Teri has distinguished herself as a leader in the Orlando FL real estate market. Teri assists buyers looking for Orlando FL real estate for sale and aggressively markets Orlando FL homes for sale.
You deserve professional real estate service! You obtain the best results with Teri Isner plus you benefit from her marketing skills, experience and ability to network with other REALTORS®. Your job gets done pleasantly and efficiently.  You are able to make important decisions easily with fast, accurate information from Teri. The Orlando Avenue Top Team handles the details and follow-up that are important to the success of your transaction.
Get Orlando Daily News delivered to your inbox! Subscribe here!
Photo credit: http://www.huffingtonpost.ca
Google+ Comments