April 7th, 2020 by tisner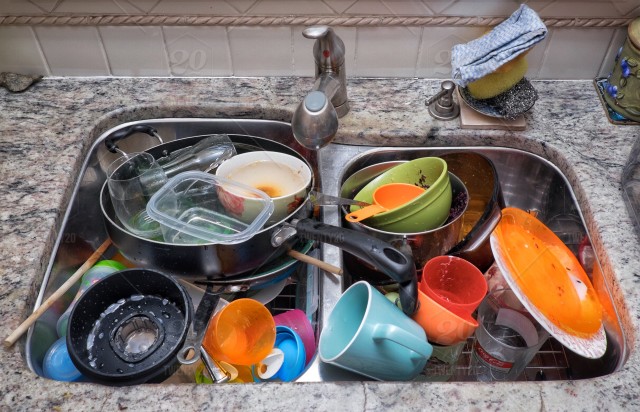 Not all housekeeping habits are good habits, especially things that we think save us time or money.  Since it's nearly Spring-cleaning season, turn over a few new leaves to make sure your home is reflecting your good efforts to keep it clean. Let these tips get you on your way: 
Dirty Dishes

 Leaving

 unwashed dishes in the sink is not only the perfect equation for bacteria, but an invitation for insects. If you're not washing dishes daily, rinse them and place them in the dishwasher.

 

Dry Dusting

  The best w

ay to remove dust, dirt and allergens is dampening a microfiber cloth with a 

mixture of water and castile soap

. Save the furniture polish for polishing.

 

Towels and Washcloths

 Hanging

 towels 

and wet washcloths to dry instead of piling them in a basket or (worse!) on the floor before laundering will inhibit the growth of bacteria and mildew.

 
Cleaning Solution Directions

 Using

 too much or too little cleaning product is simply a waste of your ti

me and money. If something is especially dirty, using more than the recommended amount can just attract more dirt over time. Repeat the application or

 add some elbow grease instead of too much detergent.

 

Dirty Cleaning Tools

 Rinse

 mops and allow to dry completely or

 

use washable mop pads to stop bacteria growth. Vacuum cleaner filters should be kept clean or replaced.  Your broom can even use a dip and swish in hot water and detergent, rinse, and dry.

 

Vacuum Last

 Our

 grandmothers have taught us to dust 

last while doing chores, but most cleaning experts suggest vacuuming last, as what dust you've stirred up will fall to the floor, and the vacuum will clean it all up.

 

Procrastinating

 Waiting

 until mold appears on the leftovers in the fridge or the ceiling

 fan blades get fluffy with dust just causes more work for you. Check leftover food regularly and throw it out and

 clean your fan once per month. Allowing cleaning jobs to go unchecked simply causes you to have to work harder and

 could make your home uns

afe.

 
No matter what your schedule is, take a few hours each week to set a housekeeping routine, and stick to it! Your home should be your personal haven, and having a cluttered, dirty home is not going to give you much peace.  Get the family involved, assign age-appropriate chores, and you'll soon break those bad housekeeping habits. 
Access Teri's one-stop Orlando FL home search website.
Teri Isner is the team leader of Orlando Avenue Top Team and has been a Realtor for over 24 years. Teri has distinguished herself as a leader in the Orlando FL real estate market. Teri assists buyers looking for Orlando FL real estate for sale and aggressively markets Orlando FL homes for sale.
You deserve professional real estate service! You obtain the best results with Teri Isner plus you benefit from her marketing skills, experience and ability to network with other REALTORS®. Your job gets done pleasantly and efficiently.  You are able to make important decisions easily with fast, accurate information from Teri. The Orlando Avenue Top Team handles the details and follow-up that are important to the success of your transaction.
Get Orlando Daily News delivered to your inbox! Subscribe here!
Photo credit: Twenty20