August 8th, 2018 by tisner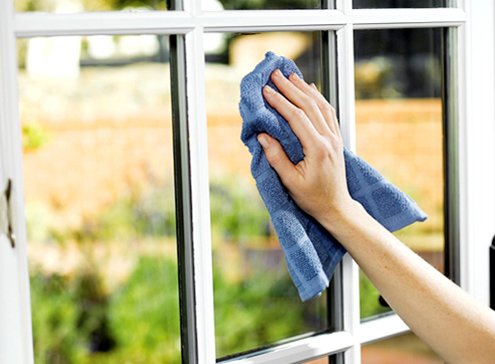 Between hot Summer winds blowing dirt and dust and drizzly rains, most windows need a bit of cleaning about this time of year.  If you have a second story, cleaning those windows can seem like a daunting task.  Since everyone can't have the luxury of tip-in easy-to-clean windows, check out these tips for getting all your windows sparkling! 
Grab a bucket and mix up some DIY window cleaner:  1-gallon water, 1/4 cup vinegar and a squirt of liquid dish detergent (but not a large squirt–too many suds can mean more rinsing and streaking).

 

Tools you'll need:  a soft-bristled brush with a long handle (a car-washing brush would be perfect) or flat microfiber mop, water hose, a step ladder or stepping stool, microfiber cloth or newspapers.

 
Ground Floor Windows 
Make sure the windows are out of direct sunlight, not only for your own comfort, but so the heat won't dry the cleaning solution before you can rinse it.

 

Remove the screen panels, lay them flat, and give them a good shower with the hose, then gently scrub with the cleaning solution.  After rinsing, allow them to dry while you tackle the windows.

 

Much like washing a car, rinse off as much dirt as you can, starting at the top of the window.  Use the brush to give the glass a gentle scrubbing, paying extra attention to bug or bird droppings or anything else stuck to the window.

 

Rinse with the hose, and use a squeegee, microfiber cloth or newspaper to wipe off excess water. If you use a squeegee, make sure you work in rows, top to bottom, wiping the blade dry in between swipes.

 
Upper Floor Windows 
You don't need a ladder to get a clean finish on the windows that are too high to reach.  Here's how: 
Remix the above cleaning ingredients, and add 1-2 tablespoons of dishwasher rinsing aid to the mix.  

 

A very handy tool to have would be a hose-end sprayer made especially for window spraying that you can pour your new batch of cleaning solution in, much like a liquid fertilizer hose-end sprayer that gardeners use.  Check your favorite home store for one of these–most cost less than $20.

 
Just like downstairs, rinse the screens and windows with a jet of plain water to remove dust and grime.

 

Spray the solution on the windows, out of direct sunlight.

 

Rinse with plain water, and the rinsing aid should allow your window to dry without streaks, no wiping or squeegee required!

 
Another tip if you're using old rags or a microfiber cloth to wipe dry:  using cloth that have added fabric softener can cause the windows to streak.  Keep cleaning cloths absorbent by keeping the fabric softener out. The Family Handyman has a great tutorial for cleaning the stuck-on stuff, as well as how to get the best use of a squeegee for window cleaning.  Go ahead and get started on this much-dreaded chore.  Once you're finished, you'll clearly see how satisfying the results are. 
Access Teri's one-stop Orlando FL home search website.
Teri Isner is the team leader of Orlando Avenue Top Team and has been a Realtor for over 24 years. Teri has distinguished herself as a leader in the Orlando FL real estate market. Teri assists buyers looking for Orlando FL real estate for sale and aggressively markets Orlando FL homes for sale.
You deserve professional real estate service! You obtain the best results with Teri Isner plus you benefit from her marketing skills, experience and ability to network with other REALTORS®. Your job gets done pleasantly and efficiently.  You are able to make important decisions easily with fast, accurate information from Teri. The Orlando Avenue Top Team handles the details and follow-up that are important to the success of your transaction.
Get Orlando Daily News delivered to your inbox! Subscribe here!
Photo credit: greatdayimprovements.com