April 2nd, 2018 by tisner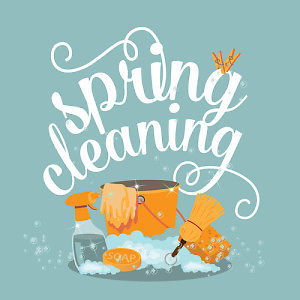 Spring cleaning is a time-honored, worldwide tradition of sorts.  For centuries, humans have been opening their windows and doors when the warm weather returns, allowing the long daylight hours inside, and cleaning everything in sight.  Thankfully, we don't have to wipe through a Winter's worth of soot-covered furniture and windows, but for many, deep cleaning is a must this time of year.  Some cleaning jobs are obvious, but there may be a few things to add to your list. 
In the Kitchen
Refrigerator coils can gather lots of dust and pet hair, along with spills from the fridge.  Getting the coils cleaned as much as possible can make a difference in how well your refrigerator motor runs.  Check with your appliance's manufacturer website for the best way to perform this task.

 

The dishwasher doesn't get dirty, because it's a washer, right? While they clean, dishwashers can have greasy build up. With vinegar, baking soda, and a bit of elbow grease, Wikihow shows us how to get the dishwasher itself to help us get it sparkling clean and smelling sweet.

 

Herbs and spices are often overlooked while cleaning pantry shelves.  McCormickⓇ reports that whole spices last 3-4 years, 2-3 years for ground spices, and herbs have a shorter life of 1-3 years.  Check the freshness date on the container, and if it's within that time frame, keep it.  If not, throw it away and restock your spice rack.

 

Don't neglect the freezer compartment when you're wiping down the fridge.  A mixture of equal parts of hot water and white vinegar to wipe down the door, seal and inside will take care of the grime, and help with any lingering food odors.  Before you refill the freezer with food, go through it and toss anything that looks freezer burnt.

 
The Bathroom
Give your toothbrushes a good clean.  Pour about an inch of antibacterial mouthwash into a cup and soak the bristles in the mouthwash for about five minutes, and rinse. If you use a toothbrush holder, wash it in warm soapy water and allow to air dry before returning the toothbrushes.

 

Bathroom exhaust fans can collect dust like ceiling fans, and the buildup affects how well it exhausts the humidity warm showers cause.  Danny Lipford of Today's Homeowner has step-by-step instructions for getting your fan clean and running efficiently.

 

Many of us don't think of cleaning hair and makeup brushes.  Remove loose hair from hairbrushes and combs, allow them to soak in warm water with some shampoo mixed in, and use an old toothbrush to scrub hairspray build up and body oils and rinse.  Makeup brushes should be soaked, given a lather, then rinsed in cool water.  Air-dry everything on a hand towel.

 
The Rest of the House
Light fixtures get grimy and dusty, so covers should be removed after turning off the circuit breaker and washed in warm soapy water then air dried on a thick towel.  

 
Remove mattresses, vacuuming both sides, and if possible, prop them in the sunlight for a few hours.  The sun's rays freshen and can kill some germs. When you replace them on the beds, make sure the mattress is flipped and rotated from its original position.  

 

HVAC registers should be vacuumed, using the hose attachment on your vacuum cleaner.  

 

Curtains and blinds collect a lot of dust, but are usually washable, so check the manufacturer's information before you toss them in the washer or clean them.  

 

Once your deep clean is complete, take care to wash or clean brooms, mop heads and dusters, as this simple move will help your home stay fresher as you do your regular cleaning.
Hopefully, the season of Earth coming back to life will encourage you to get everything in your home spic and span.  Spread it out over a few days or weekends, making lists to stay organized and on task, so the job won't overwhelm you.  Don't forget to get the family involved!  Once everything is gleaming, you can enjoy the coming months more, knowing your home is clean, and the job is done for another year. 
Access Teri's one-stop Orlando FL home search website.
Teri Isner is the team leader of Orlando Avenue Top Team and has been a Realtor for over 24 years. Teri has distinguished herself as a leader in the Orlando FL real estate market. Teri assists buyers looking for Orlando FL real estate for sale and aggressively markets Orlando FL homes for sale.
You deserve professional real estate service! You obtain the best results with Teri Isner plus you benefit from her marketing skills, experience and ability to network with other REALTORS®. Your job gets done pleasantly and efficiently.  You are able to make important decisions easily with fast, accurate information from Teri. The Orlando Avenue Top Team handles the details and follow-up that are important to the success of your transaction.
Get Orlando Daily News delivered to your inbox! Subscribe here!
Photo credit: 180066ducts.com
Google+ Comments